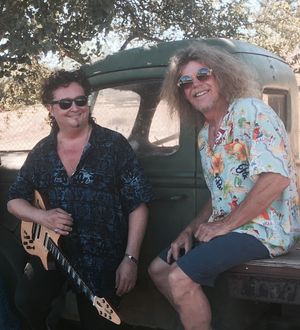 Our Story

For those that don't know, The DoubleShots
are an "Acoustic Guitar Duo" with a wide range
of styles including Blues, Country, Rock&Roll,
Folk, Alternative and Original Music.

The DoubleShots strengths combine solid singing
with emphasis on great harmonies and kick-ass
guitar playing. The sound you hear is also very
unique. Utilizing various tools and gadgets more
commonly associated with full-on electric bands,
the DoubleShots go beyond "just an Acoustic Act".
They are able to follow the sparkling acoustic
sounds of Simon & Garfunkel with a blistering
Led Zeppelin tune, staying true to the originals!
It is this ability that makes
The DoubleShots stand out.

After seeing The DoubleShots for the first time,
the common reaction is," It sounds like a full
band up there and there's only two guys!!" If this
is not enough, they also run a lot of their show by request, which gets the audience involved.
The DoubleShots love the Audience. They have a saying,"Without You It's Just Band Practice", and
they believe that the audience is just as important
for a great show as they are.

The DoubleShots are very serious about what they
do but they never take themselves too seriously.
Fun and Spontanaeity are hallmarks of any
DoubleShot show; they are known to launch into a
5 minute political commentary or an off-the-cuff
movie review,(see our personal pages), or a
dialogue with someone in the audience or some
great music trivia between songs.

With all this in mind you begin to understand that
a DoubleShots Show is more than just two guys playing guitars...It's an Experience!